Bulletin Of Camel Disease In The Kingdom Of Bahrain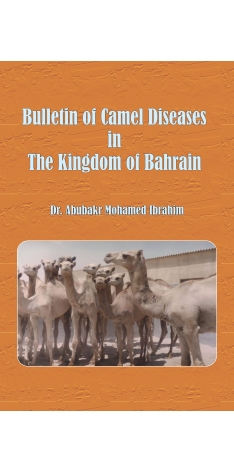 Price 54.00 90.00
Preface
Foreword
Camels play a significant socio-economic role in camel raising countries. Many diseases threaten the existence of camels which, at times, cause high mortality. Proper diagnosis of camel diseases is a pre-requisite for effective treatment and control.
The Bulletin at hand is a genuine attempt by the author to document common diseases and affections of camels of the Kingdom of Bahrain. The information included in the Bulletin is well presented and illustrated with good figures. The Bulletin reflects a good deal of the author's research activity and long professional experience in the diagnosis of animal diseases, particularly camels.
The Bulletin will constitute a good addition to previous publications on camel diseases and will be of great help to veterinary students and practicing veterinarians.
Prof. Ahmed Abdel Rahim Gameel
Department of Pathology
Faculty of Veterinary Medicine
University of Khartoum
Acknowledgement
I would like to thank all those who helped me to write this bulletin. Special thanks are due to my daughter Hana who did a mgnificent job to prepare the text, tables and figures in a Bulletin format thus bringing it to a reality. Thanks are also extended to my daughter Abeer who designed the front and back Bulletin covers.This Bulletin is dedicated to my beloved parents who brought me to this life, to my beloved wife Mahasin, and my daughters Abeer, Rania, Hana and Shaza whose patience, love and affection elevated my morale and inspired me throughout my writing of this Bulletin.
Dr. Abubakr Mohamed Ibrahim
Introduction
The aim of this bulletin is to provide the readers simplified and summarized information on some camel diseases prevalent in the Kingdom of Bahrain. The bulletin is the result of more than 20 years of field visits, disease investigation, data collection and laboratory investigations to diagnose camel diseases that occurred in 17 camel rearing centers that nearly represent various geographical regions of the Kingdom of Bahrain.
The career of a scientist never ends, instead it ripens with the ages and the experiences gathered must always be shared with other scientists, as has been rightly done by Dr. Abubakr Mohamed Ibrahim. I know Dr. Abubakr since more than two decades and have visited his laboratory also in Bahrain. His constant zeal and utmost enthusiasm led him to amass such a big collection of scientific tips of diagnosing and treating camel diseases. I appreciate his efforts to pen-down the observations recorded by him. Many kudos to Dr. Abubakr Mohamed Ibrahim and his team.
My special thanks go to Dr. Jit Singh, Co-editor of Ruminant Surgery, Professor (Retd) of Surgery and Radiology, Ex-Dean, College of Veterinary and Animal Science, Navania, Vallabhnagar, Udaipur for applying his editorial skills in shaping this manuscript.
Dr. T.K. Gahlot
Professor and Head
Department of Veterinary Surgery and Radiology
College of Veterinary and Animal Science
Editor, Journal of Camel Practice and Research
Bikaner, Rajasthan, India
Add to cart
Buy now